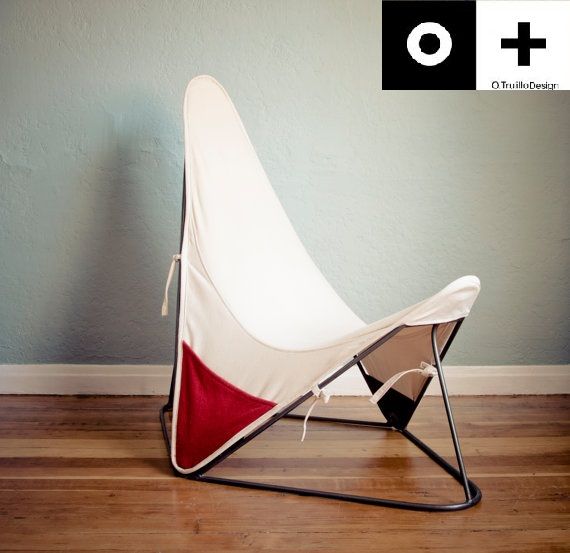 One day while staring at my vintage B.K.F. Hardoy (Butterfly) chairs that I'd owned for many years, I started to think about how I could cut them up, reconfigure them and make something new, yet that would still have a familiar vintage mid century vibe.
I sketched out the various configurations on paper, and eventually decided that the best way to truly know if it would work was to just start cutting! I didn't have the heart to cut up an original, but was able to find reproductions.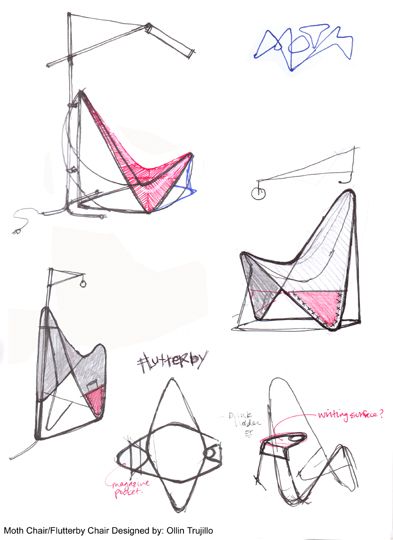 *Disclaimer: No real butterflies were harmed in the making of this chair!
The shape is a hyperbolic paraboloid, in which the user straddles the seat, almost like a
chopper motorcycle or vintage banana bicycle seat bicycle (which were major influences in the design) Anyone who's owned a BKF Hardoy butterfly chair can tell you that it's actually quite
comfortable to sit "crooked" in it. The pockets are great for storing books, magazines, newspapers, TV remotes, phones etc.
Check out a cool mpeg 360 view (Thanks Patrick!)
http://s26.photobucket.com/user/ollin_trujillo/media/Blog%20Posts/ollintujillo_moth_chair2_zps1a2479db.mp4.html
This chair is perfect for an industrial artist loft, Atomic mid-century house, outdoor lounge, or as a reading chair. Stay tuned for a matching lamp and a pillow attachment! Please let me know if you plan to use it outdoors, and we can do a powder coated finish and water resistant canvas.
I live in Los Angeles,CA near the garment district. I can basically make any color combo you would like. Please contact me and we can discuss it.
Available on Etsy, or contact me directly.
https://www.etsy.com/listing/156173513/moth-chair-aka-flutterby-chair-mid